Askan Technologies Proud to be a 5-star Firm
Here at Askan Technologies, we know it can be stressful and taxing to balance innovative software implementation while maintaining other crucial business operations. That's why we're here to help! Our goal is to digitize your vision, streamline your processes, and optimize your business for success. We implement cutting edge technology that will set you apart from even your strongest competition.
As a custom software company that specializes in building large, scalable applications, the sky is truly the limit. We've created content management systems business automation software that have helped our clients blossom. They're also enabled to tackle new and interesting ventures with their new found time and resources.
We'd like to take this opportunity to thank our wonderful clients for welcoming us into their businesses and trusting us with their crucial processes. As business partners we help each other learn and grow, as well as navigate interesting new projects together. It's always satisfying for us to tackle a new project and use our time-tested methodology to assess the best possible solution.
One of our clients works in the insurance industry and needed help with full-stack web development, mobile app development, and on-page SEO. We were able to exceed their expectations and increase their customer base by 5,000 in our time working together. They noted that we go above and beyond in our collaborations, and loved how flexible we are to accommodate client requests. Take a look at a snapshot of the Clutch review they left us below: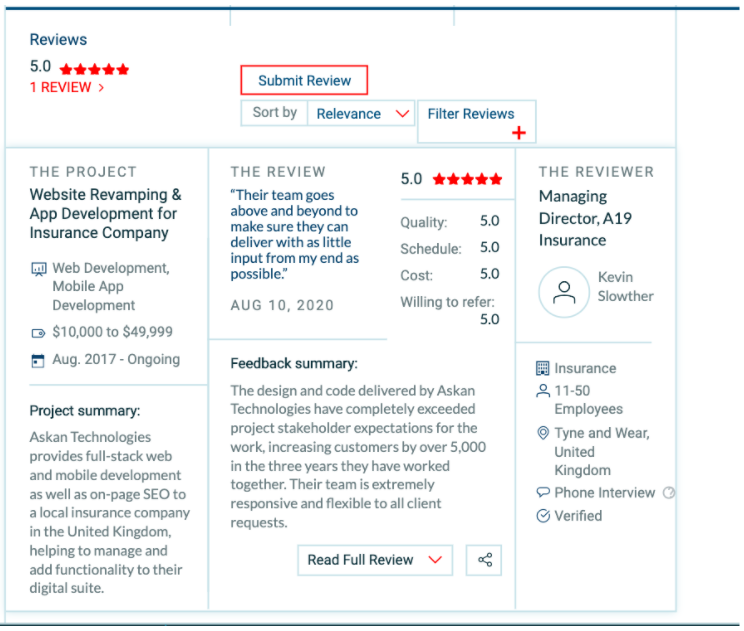 We truly appreciate feedback in all of its various forms. It helps us learn and grow as a business, and gives us a sense of security with processes that have been working. We especially love receiving feedback in the form of Clutch reviews because of how holistic the process is. Clutch analysts reach out to our former and current clients and engage in a 15-minute call to assess our performance. There, we're graded on quality, customer service, pricing, and punctuality. Then, those thoughts are transcribed into a written case study. We're pleased to report we've earned a five out of five stars on Clutch so far, in reflection of that feedback!
Another place where you can learn about Askan Technologies' services is on The Manifest, a business data and how-to resource. The platform boosts company visibility by highlighting key stakeholders in an industry, and contrasting them against similar firms.
Interested in learning how Askan Technologies can help your business soar? Drop us a line today!