Askan Technologies Is All Set to Shine at GoodFirms by Proffering Top-Notch Web Solutions
Helping clients grab users' attention by catering high-end web solutions and services would soon facilitate Askan Technologies to be amongst the top web service providers in India at GoodFirms.
About Askan Technologies:
Incepted in 2015, Askan Technologies is based in Pondicherry, India. The company holds a group of talented strategists, innovative designers, creative web developers, and incredible analysts – who are experts in creating bespoke websites. The organization combines a potent mixture of technology-focused and contemporary solutions with a bountiful splash of creative juices, to present perfect world-class digital products that transform clients' businesses. At Askan, an enthusiastic team of perfectionists' tests the products developed – a process that helps convert every product into a masterpiece.
The professionals strongly believe in "Better people, Better Technology and Better Life." Thus, the experts at Askan empower business people with eminent technology that enlightens their respective businesses. The company's vision is to meticulously procure the paramount spot in the digital industry, by presenting the ideal workplace with the best culture.
Besides this, the in-house team at Askan Technologies has offered personalized solutions for clients' business requirements facilitating ample flexibility to handle the evolving requirement specifications on an ongoing basis.
GoodFirms' Research Process:
GoodFirms is a B2B analysis and reviews platform that showcases the active and well-performing IT and software businesses. With its inclusive critique process, GoodFirms evaluates the service-providers listed with it to help service-seekers get their ideal partner. The evaluation process conducted by GoodFirms is based on the three essential aspects, viz Quality, Ability, and Reliability.
Same way, the GoodFirms unit also judged Askan Technologies and found that with exceptional services and solutions in web development, web design, and mobile app development, the firm would soon be positioned at a higher level in the respective categories.
The excerpt mentioned-below from the analysis done by the GoodFirms for Askan Technologies reflects a clear-cut picture of the company's growth.
Bespoke and Mobile-Responsive Websites:
Askan Technologies is an expert in digitizing clients' vision. The company provides clients with different services like converting e-commerce to custom applications, building large scalable applications, business automation software, content management systems that boost clients' business ROI.
Moreover, the professional group renders the clients with top-notch and personalized services tailored to their unique needs and beyond imagination. Besides this, the team aims to offer sensible solutions that improve the metrics without compromising quality service.
The in-house team of developers at Askan has extensive experience producing innovative, competent, and customized web applications. Moreover, the team renders the befitting mixture of methodology and tools to help clients tackle clients' business challenges. Thus, developing websites with an in-depth understanding of clients' requirements and objectives would soon bequeath Askan Technologies as one of the top web development companies in India at GoodFirms.
The review obtained at GoodFirms is confirming the quality websites developed at Aksan Technologies.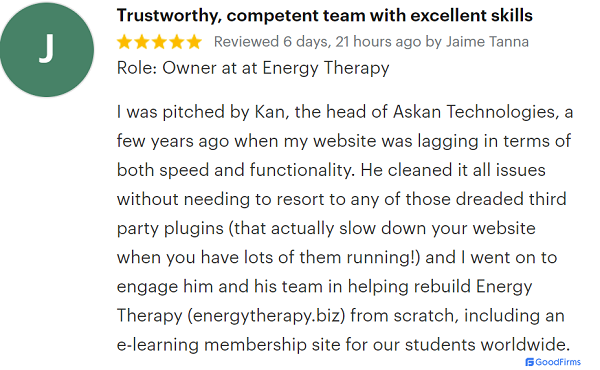 Compelling & Elegant Web Designs:
At Askan Technologies, the artistic team believes that the website is the natural extension of clients' brand story that sets the tone for their online presence. The team with excellent web design pushes the boundaries between a static three column layout and gives clients' users an immersive digital experience.
Moreover, the designers dive deep to immerse themselves in the clients' industry and their brand aesthetic. They conduct extensive research on clients' industry, competitors, and audience and interview their stakeholders to construct a tailored strategy and design.
Besides this, the curators at Askan Technologies develop a sitemap and wireframe of clients' projects in order to define the key features, functionalities, and structure of their new website. The GoodFirms researchers believe that producing a plethora of beautiful and feature-rich web designs would soon endow Askan Technologies as one of the top web design companies in the USA at GoodFirms.
Impactful Mobile App Development Services:
At Askan, the expert app developers team craft an excellent next-generation mobile app for clients' business. They deliver clients with apps for cross- platforms such as iOS, Android, Blackberry, and Windows platforms.
The team at Askan holds expertise in app development and ensures to perform with zeal and zest by implementing the latest technological changes. Moreover, the organization endeavors the complex and diverse needs of the clients and accouches the optimum solution.
Besides this, the group understands the importance of responsive designs; ergo, they make sure to deliver better look-and-feel while presenting clients' information across multiple devices, irrespective of screen size. Thus, providing responsive and adaptive apps would soon facilitate Askan Technologies to earn a position as a top mobile app development company at GoodFirms.
 The review displayed below is the evidence of robust app solutions rendered at Aksan Technologies.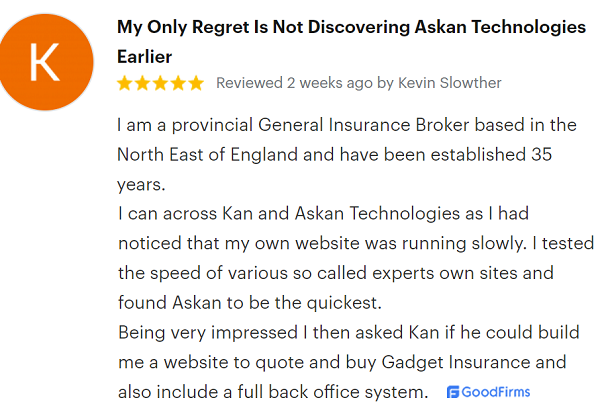 About GoodFirms
Washington, D.C. based GoodFirms is a maverick B2B research and reviews company that helps in finding web development, web designing, and mobile app development agencies rendering the best services to its customers. GoodFirms' extensive research process ranks the companies, boosts their online reputation, and helps service seekers pick the right technology partner that meets their business needs.
About the Author
Anna Stark is presently working as a Content Writer with GoodFirms – Washington D.C. based B2B Research Company, which bridges the gap between service seekers and service providers. Anna's current role allows her to shape every company's performance and critical attributes into words. She firmly believes in the magic of words and equips new strategies that work, always in with ideas, something new to carve, and something original to decorate the firm's identity.